Race
Date: Saturday 10th August 2019
Registration: 08:45 – 9:40
Race Start: 10:00
Race Director: Jim Brown
NIMRA Championship
Category: Long
Distance: 18 miles (29km)
Ascent/Descent: 8,100 feet (2,495m)
Direction: 2019 anti-clockwise
Event Information
Race HQ will be in Donard Park. There is parking but we advise car sharing if possible, as there are other events scheduled for the same day.
There will be hot showers and food following the race.
There will be no online entry for the 2019 race. Please allow extra time for registration on race morning.
£10.00 / £11.00 (unattached)
Summits
(Alternating between clockwise & anti-clockwise each year)
Slieve Donard 850m
Slieve Commedagh 765m
Slieve Lamagan 704m
Slieve Binnian 747m
Slieve Meelbeg 708m
Slieve Meelmore 704m
Slieve Bearnagh 727m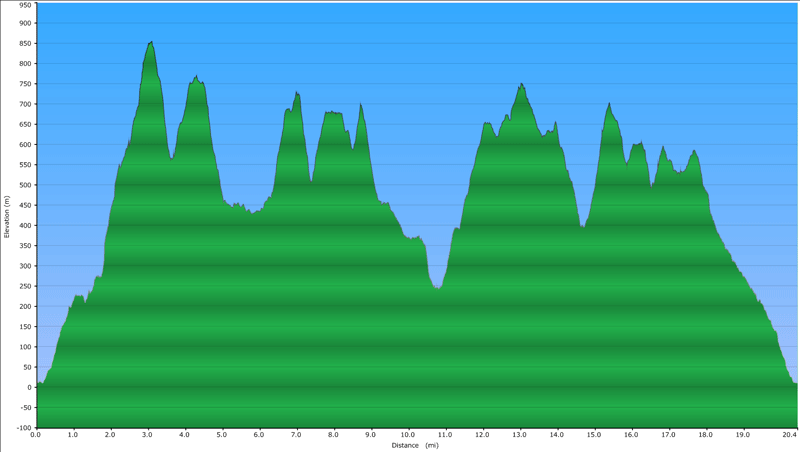 Route
The race takes in the seven highest summits in the Mourne Mountains: Donard, Commedagh, Lamagan, Binnian, Meelbeg, Meelmore and Bearnagh.  Additionally, the following marshalled positions must be included;  Donard/Commedagh col, Lamagan/Binnian col, Ben Crom dam, Meel Beg/Meel More col and Hare's Gap.  Each runner will be issued with numbered plastic tabs which must be handed in at the marshalled positions. Additionally, a dibber will be used to record times at the summits.
All runners must carry a minimum of a whistle, compass, map of the course, emergency rations, waterproofed taped jacket with hood, waterproof trousers, gloves, hat, and a space blanket. Please be aware that for long sections of the course there is no water so plan accordingly. There will be a kit check before the race starts and at the finish if necessary.
Important Note
This is a hill race for mountain runners and cut off times will reflect this. Do not enter this event if you are a walker thinking that it will be a substitute for the cancelled Mourne Seven Sevens challenge walk.