Details
Date: August. (Race date listed on NIMRA events page)
Start time: 10am
Race Director: Jim Brown
NIMRA Championship
Category: Long
Distance 18 miles (29km)
Ascent/Descent 8,100 feet (2,495m)
Summits
Slieve Donard 850m
Slieve Commedagh 765m
Slieve Lamagan 704m
Slieve Binnian 747m
Slieve Meelbeg 708m
Slieve Meelmore 704m
Slieve Bearnagh 727m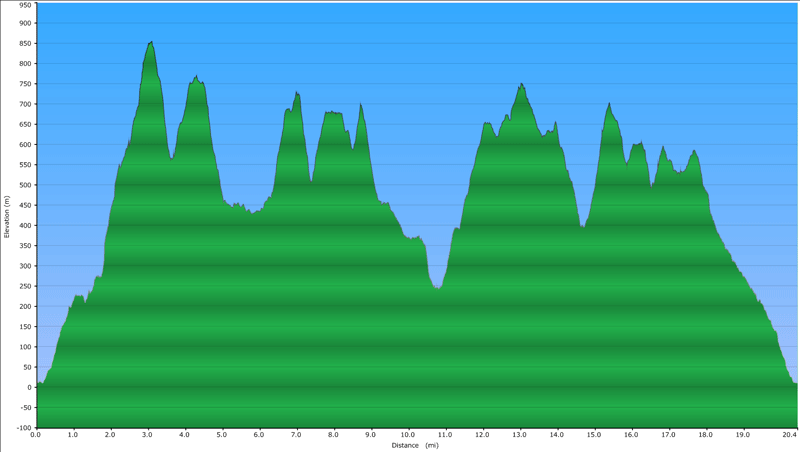 Route
The start and finish is in Donard Car Park (G. R. 374306). Each of the seven peaks and Ben Crom Dam must be visited once, in whatever order is chosen by the participant. Navigational skills will be required, especially if weather conditions are poor. Participants must have the ability and experience to use both map and compass.
Cut-off time
There is a firm cut-off time of 2:30pm at Ben Crom dam. This is to ensure walkers complete the route before dark. Walkers missing the cut-off will be retired from the walk. WALKERS RETIRING FROM THE WALK MUST TELL THE ORGANISERS ON THEIR RETIREMENT AND ON SAFE RETURN OUT OF THE MOUNTAINS.
Equipment, food and water
Participants must have the following: hill walking boots or fell shoes; whistle; waterproof coat & hood/hat; 1:25,000 map of the Mourne Mountains; compass. Food and water are the responsibility of the individual participant. Refreshments will be available at the finishing point.
Organisation
For safety reasons, the walk is only open to those over 18 years of age on the day of the walk. It is intended that all peaks except Meelmore will have manned checkpoints. Should it prove to be impossible to man a particular summit then walkers will be advised of this at check-in on the day of the walk. Please do not bring dogs on the walk, since large sections of it cross land grazed by sheep.
Accommodation
Details of accommodation available in the Newcastle area is available at www.discovernorthernireland.com and from Down District Council's Tourist Information Office in Newcastle, tel 028 4372 2222, email newcastle.tic@downdc.gov.uk.
Transport
This is a "circular" route and therefore walkers/runners may leave their cars in Donard Car Park. The car park is open to the public at all times. Ulsterbus run a "Mourne Rambler" bus during July and August. The route circles the Mournes and may be useful for walkers who have to retire from the walk far from the finish. The timetable is available at http://www.translink.co.uk/ or phone 028 4372 2296.